Asura® offers you fully automated quality control for print files at the
pre-press stage with subsequent optimisation of the PDF files.
Error identification and correction automatically, as part of your workflow!

Less ink consumption – more cost saving – higher quality:
With its lower percentage of colour ink, you reduce your printing
costs without affecting the quality of your images.
They retain their brilliance and colourfulness.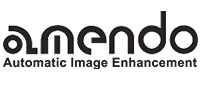 With its intelligent image editing solution, Amendo® delivers
perfect results – in the shortest time possible and to a consistently
high standard.
Our Video